For the sake of time (remember, our mission is to create an infographic in under an hour), I'm going to create an infographic based on a compilation of steps and best practices we put together in our guide, How to Run an Inbound Marketing Campaign.
How to Create an Infographic in Under an Hour [+ Free Templates]
That's why we decided to do most of the work for you. With HubSpot's Free Infographic Templates in PowerPoint, you can create high-quality, professional infographics in under an hour. Feel free to take a look at the resource below:
You can add your own content to premade outlines in a cinch, and if you need a helping hand, we'll demonstrate how to personalize your infographic in PowerPoint in this post. Keep reading to learn how to make a memorable infographic with ease.
How to Make an Infographic
1. Choose your desired infographic template.
First things first, you have to choose an infographic template appropriate for representing that data. The important thing is to choose a template that specifically works for the type of data set/content you want to present. As you saw pictured above, you can download our 15 infographic templates in PowerPoint and choose whichever template you'd like.
Some of your template options in the offer linked above include a timeline, flowchart, side-by-side comparison, and a data-driven infographic. Here are some basic ideas for choosing an infographic template that suits the story you want your data to tell:
Side-by-side comparison infographic: This infographic design can help prove the advantage of one concept over another, or simply explain the differences between two competing entities.
Flowchart infographic: This design is perfect for presenting a new workflow for your organization, or how a linear or cyclical process works across your industry.
Timeline infographic: This design can tell a chronological story, or history, of a business, industry, product, or concept.
Graph-based infographic: This design is suitable for content creators publishing a high volume of data and statistical information, making it a good fit for expert-level audiences, too.
Image-heavy infographic: This design caters to content creators who are trying to reveal trends and information from shapes, designs, or photography — rather than just numbers and figures.
2. Identify the audience for your infographic.
According to Harvard Business Review, five possible audiences can change how you choose and visualize your data: novice, generalist, managerial, expert, and executive. Start by comparing your infographic's ideal reader with one of these five audiences — which one applies to your reader?
3. Make data visualizations for your infographic
Inform
Compare
Change
Organize
Relationship
Explore
There's no magic bullet for exploration—the visualization style will really depend on the specifics of your data. Interactive charts like this one that allow for filtering, sorting, and drilling down are the often best choice, but these can be costly and time-consuming to develop. If you're a visualization beginner, try to stick to the other choices.
That's a quick rundown of our ICCORE method. Now, you should have everything you need to pick appropriate charts for each set of data you want to visualize. Just think about what you want to emphasize, and pick your chart accordingly.
4. Create your layout using an infographic template
Create a natural information flow
Start by telling your reader what they'll gain from your infographic (i.e. turn the burning problem into your header), follow up with the charts that address the "supporting questions", and then drive it all home with the charts that address the "probing questions".
Use a grid layout to add structure and balance to your infographic
Make an infographic with a ready-made template
Step 6: Pick and customize a template that fits your message
I'll be honest with you: Unless you're a designer, don't design your own infographic from scratch. I know everyone likes to think they're great at design, but unless you spent time developing an eye for it, you don't know what looks good and what doesn't.
A good design won't make your infographic successful, but if your graphic has such a bad design that it starts to detract from the message, you're in trouble. An infographic with a solid structure but an OK design will do better than a perfectly designed infographic that is all over the place.
That's why I recommend picking a template and adjusting it to your needs. Our infographic templates are created by professional designers and are made to be customized. Besides, chances are you don't have the time it takes to create it good infographic from scratch. You have a million other things to do.
Since we want to create an infographic that shows the process of making one, I'm going to look for a template that has the elements that I want. Since it's a process, I'm looking for templates that either has steps in them or elements that show progression.
Adjusting a template in Piktochart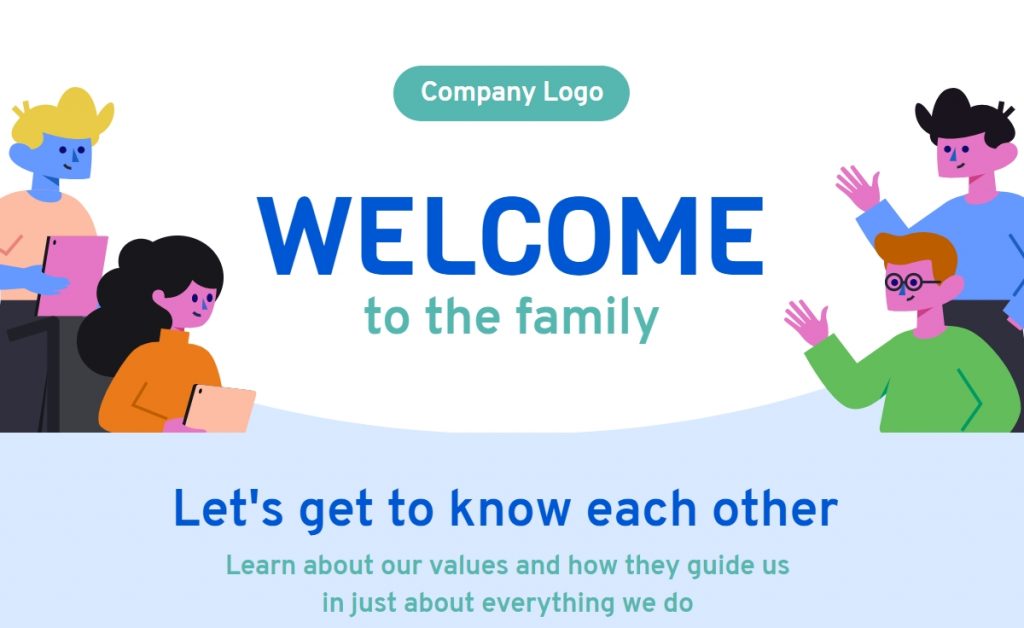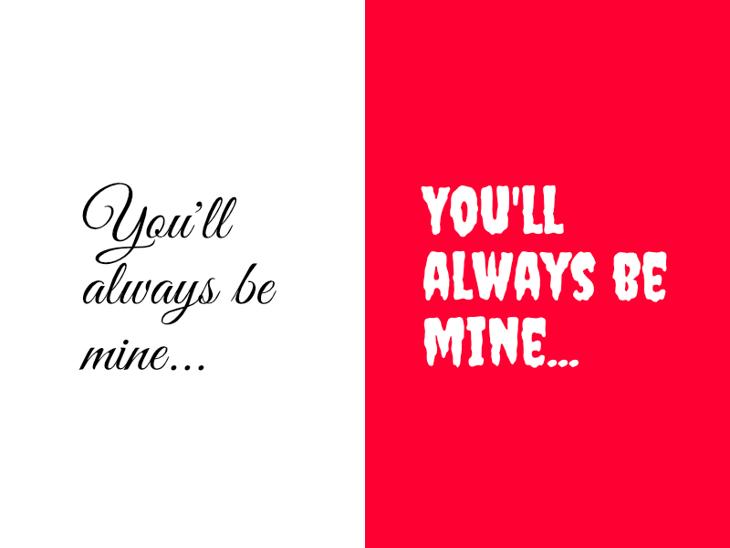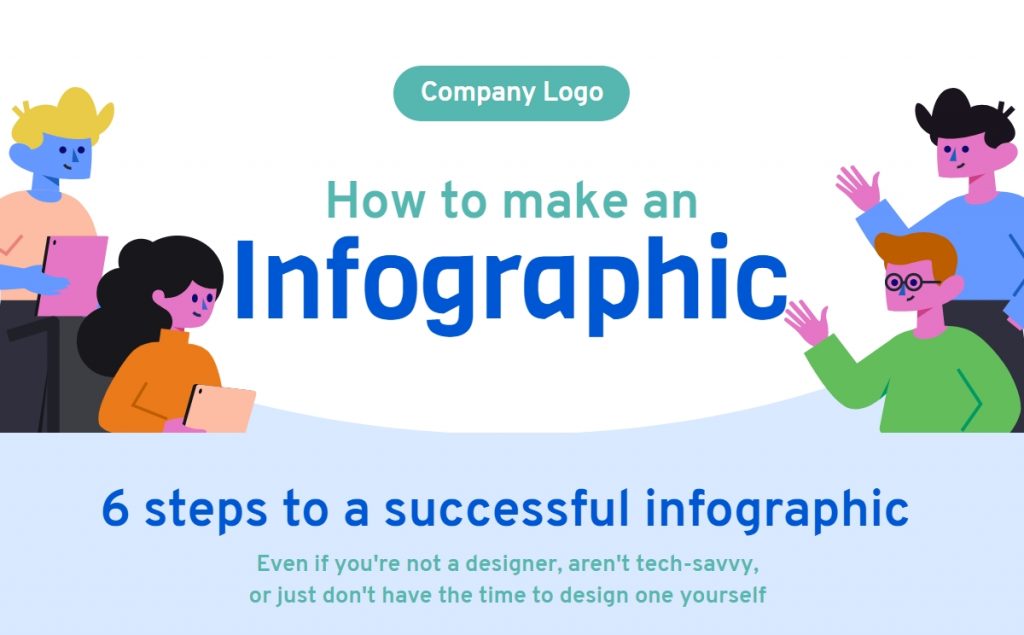 I also started adding my text to the infographic. I'm trying not to mess with the design too much at this point. I'm just trying to get all the text on it so I can focus on images, icons, and alignment later on.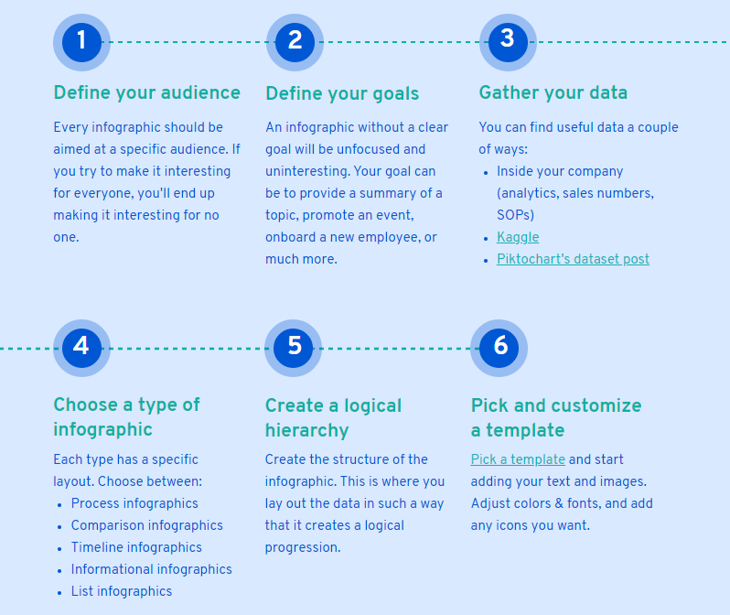 Adding images and icons
An infographic with only text is boring, so you'll need images and icons to spice things up. However, out of all the things you can change in a template, images and icons are the easiest to screw up. With colors and fonts, you can use tools to compensate for the lack of experience.
With images and icons, however, you're messing with the whitespace and composition of the design. You can use the helper lines in Piktochart to snap elements into place and keep things aligned, but ultimately you have to decide whether something looks good or not. This requires some knowledge of basic design principles.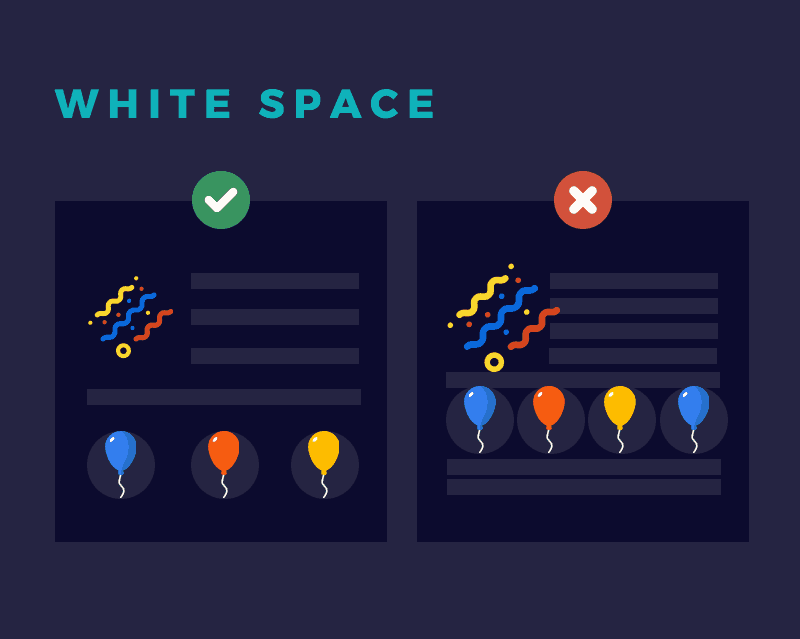 What images and icons to add depends on your message and what emotional message you want to communicate. Think of what would symbolize your message. A picture of a beach can represent vacations, a picture of a conference can represent collaboration, and so on.
But please (please!) avoid the overused stock photos. You know the ones, a customer support employee smiling at the camera, two guys in a suit shaking hands, or the very politically correct group of people who seem weirdly happy to be in a meeting.
First, I'll put in our logo and delete some of the illustrations that are already there. As much as I like them, too many will drown out the headline. I'm also replacing the illustration on the right with one that represents the message a bit more.
Sources:
https://blog.hubspot.com/marketing/create-infographics-with-free-powerpoint-templates
https://venngage.com/blog/how-to-make-an-infographic-in-5-steps/
https://piktochart.com/blog/how-to-create-an-infographic-and-other-visual-projects-in-5-minutes/